Mini F56 JCW Intercooler
£774.05
---
Code: FMINT7
---
As the preferred and official supplier of intercoolers to Mini Challenge, we are proud to present our intercooler for the Mini JCW F56 Chassis (2014-on).
As the originators of the stepped core design way back in 2006, we were best placed within the market to call on our vast expertise in order to deliver a direct fit intercooler that would enhance the performance potential of the BMW Group 2.0 petrol turbo engine.
Our core offers a 31% increase in frontal area over stock (BMW Part no.17517617600) and a correspondingly large increase in volume of 41%.
Our end tanks are cast aluminium, made from 3D printed prototypes that we manufactured ourselves in our dedicated R&D facility in Gloucester, UK. The bar and plate design we have used comes after months of testing different core designs and opting for the core with best internal and external airflow.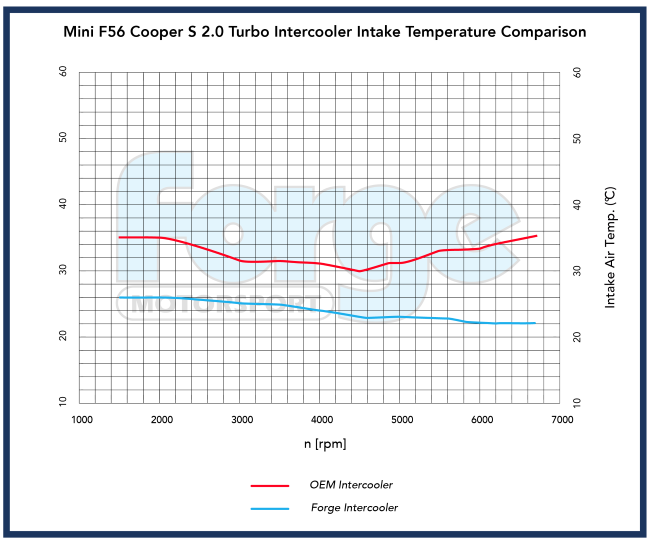 Official supplier to Mini Challenge
The Forge F56 JCW intercooler gives a respectable 31% increase in frontal area over stock and a correspondingly large increase in volume of 41%
The Forge F56 JCW Intercooler leaves the opposition behind yet again being the first to market
The Forge development team have used Solidworks software to improve the OEM end tank design, making the Forge cast version a much freer flowing and efficient unit
Testing and flow analysis has made this product a clear market leader
Pressure drop under 1 Psi.
This product is designed, developed and manufactured entirely in Great Britain and is covered by our lifetime warranty.
Click here to find out about information and care for your Forge Motorsport cooling product.
Downloads: