Induction kit for Hyundai i20N
£225.72
---
Code: FMINDK45
---
FMINDK45 is the Forge cold air induction system for the Hyundai i20N. As with all manufacturers in recent times, the need to make smaller capacity engines more powerful with better efficiency, has been the engineer's top priority. To achieve these goals, the designers have to maximise the space to its fullest, which inturn creates more of a challenge for the aftermarket manufacturers and tuners to improve what is already fitted to the vehicle. Nonetheless, this hasn't stopped us at Forge Motorsport!
Even with plenty of expertise from past developments with previous Hyundai models, the i20N power unit needed an extensive amount of testing time to ensure that we ended up with a product that provided genuine improvements over the standard air box.
The CAD designed, laser cut, and precision folded heat shield is designed to form a barrier between the air inlet tract and radiant heat from the engine. It also helps duct the cold air to the air filter, to help preserve low intake temperatures, which in-turn creates more power. Finished in our black textured powder coating, this creates a product with an OEM look and quality.

WHY DO WE TRY TO DECREASE IATS?
Temperature and volume of air supplied to your vehicles engine that is compressed by the turbo charger, has a better effect on performance when cool, as this is to provide the engine with more oxygen (denser air), thus improving the combustion in each cylinder. In addition, by regulating and reducing the air temperature, it also increases the reliability of an engine by keeping the AFRs (Air Fuel Ratios) in each cylinder at a safe level; this in-turn, can increase an engines power due to the air being cooler. A bigger bang is then created within the cylinder, providing the correct amount of fuel is added. This can equate to an increase in BHP and torque. Manufactured in-house, and expertly welded together by our highly skilled craftsmen, this kit gives us the confidence to offer a lifetime warranty on all the hardware included.
During dyno testing, we tried several filter configurations and settled to give the customer the choice between our polyurethane PRORAM pleated filter, or alternatively our foam option that has been exclusively manufactured by Pipercross, neither filter excelled over the other with results being almost identical throughout the rev range. Both the filters offered can be oiled by the end user to prevent extremely fine dust, found in very hot climates, entering the inlet tract. This will enable no detriment to the running of the engine, as the Hyundai's 1.6L Turbo charged engine has no maf sensor housed after the filter.Testing was completed using Performance Remap in Gloucester with their VTEC 4 wheel drive dynamometer. This was to ensure all our data has been achieved with results as accurately as possible by an independent tuner.
As you can see from the dyno results below, the gains in torque and bhp can be seen through various points throughout the rev range. Torque is improved by 20NM at 2400RPM with 15NM from 3000RPM to 3800RPM , these are the crucial points in the rev range where true power increases can be felt by the driver and certainly making acceleration feel quicker. BHP is increased throughout the range with 7 BHP at 3700RPM and 6 BHP at 6400 RPM. This equates to more bhp being held from 5400RPM to the Rev limiter.
We also tested our high flow inlet tract, FMTIA11 with incorporated turbo elbow which on vehicles with a tuning box or software recalibration will enhance the turbos acoustics along while adding more mid-range torque and peak BHP figures.

IN THE BOX
x1 Aluminium joiner
x1 Aluminium heat shield with rubber strip
x1 Foam or Pleated air filter with hoseclamp (depending on selection)
x1 M6 penny washer
x1 M6 x12 hex head bolt

Complimentary Products
Our uprated valve for the Hyundai i20N and the Elantra N Line has been expertly manufactured and designed in the UK, meaning we can provide the industry leading valve for your vehicle. Specifically designed for the Hyundai, this valve can be used either as a fully atmospheric (blow off) valve, or a recirculating valve!
This billet aluminium oil cap will replace your OEM one, leaving your engine bay with a premium and high quality aesthetic. This cap is available in a choice of body colour (black or polished) and a choice of cap top insert (black or polished). This perfectly compliments your i20N!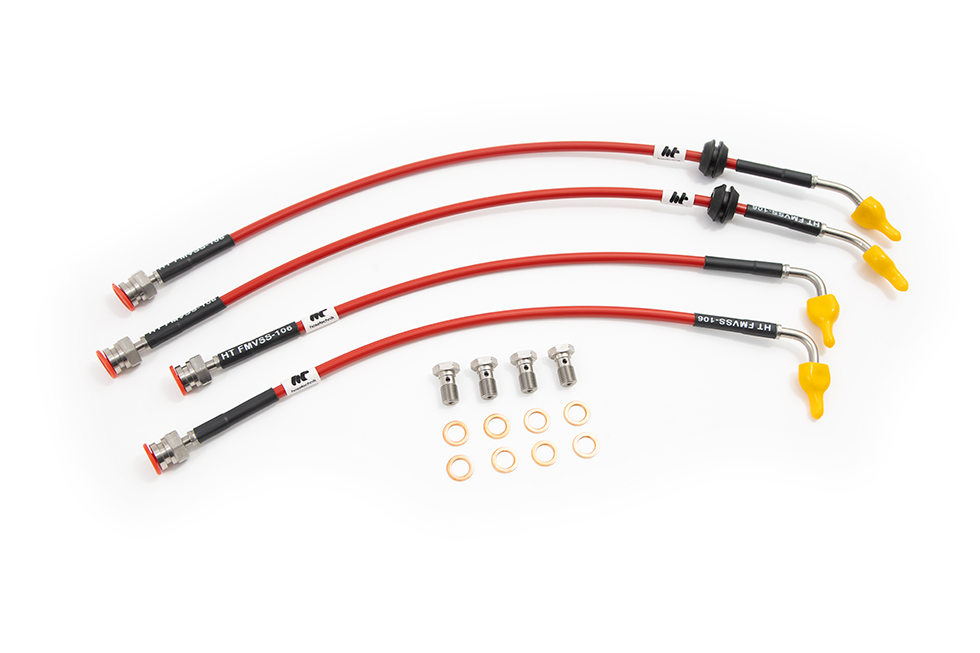 A set of 4 ultra-high performance brake lines for the Hyundai i20N. These are a direct replacement/upgrade for the OEM brake line set and require no further modifications to fit.This brake hose will perform under the most extreme and harsh conditions, whilst still looking good and performing at the highest level.

Downloads: