Induction Kit for Fiat 500/595/695
£298.98
---
Code: FMINDF500
---
Highlights:
Complete kit and instructions for ease of installation

High flow intake in carbon fibre housing

Hand fabricated aluminium piping

Maximises density charge of cold air for increased performance (8bhp)

Aesthetically pleasing design
This kit for the Fiat 500/595/695 comes with everything you need for the installation. It uses a carbon fibre canister to house one of our high flow air filters. The aluminium components are hand fabricated in our UK headquarters.
The cold air feed is drawn in from the scuttle panel, this maximises the density charge of air entering the turbo intake. This combination of temperature and density gave us an 8bhp increase on our test cars as well as an incredible induction noise. It will put a smile on your face not only when you feel the power gains, but also when you open the bonnet and see this beautiful product sat in your engine bay.
Our intakes/induction kits are a great and effective upgrade to your vehicle. This intake comes with a carbon fibre housing. To ensure we deliver the best quality products we can, and following the extensive design and development of our intake range, we enlist the services of one the world's leading carbon fibre manufacturers, who's products range from F1 aero, carbon fibre car bodies, and aircraft wings!
Our intakes maximise the density charge of cold air for increased performance, as well as give a great sound, and enhance the aesthetics of your engine bay. When it comes to the filtration part of the intakes, there is no point creating such an efficient system for it then to be restricted by the OEM hose and filter. Therefore, for the filters, we engage one of our partners and experts in filtration control, Pipercross or RamAir!
Additonal parts such as aluminium piping are hand fabricated and polished, and the hoses are fluorosilicone for maximum longevity.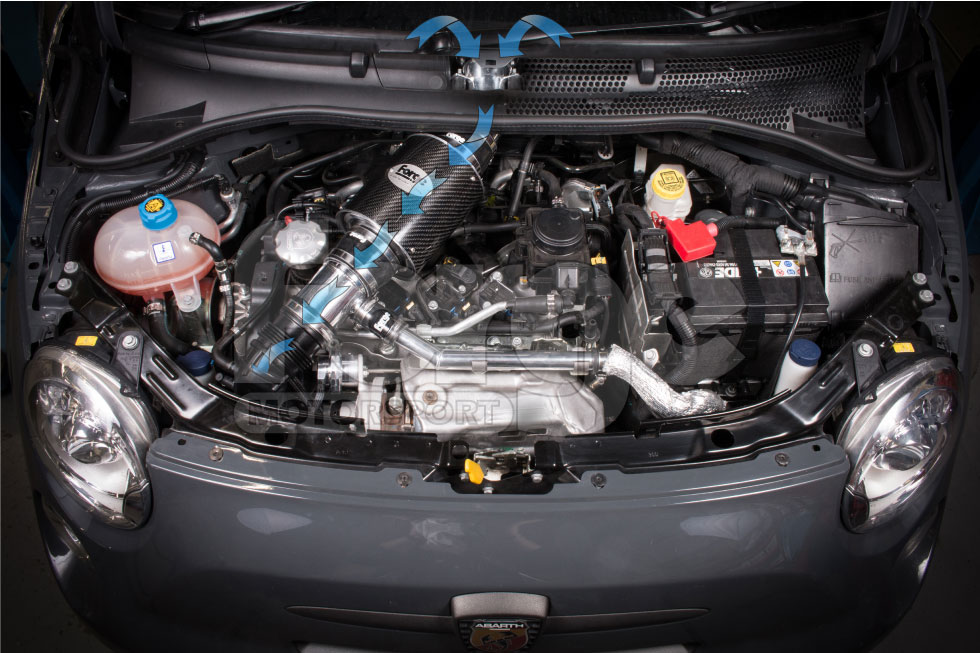 ⭐ Brilliant kit, amazing company ⭐
⭐ This is a great kit! Arrived very quickly and was super easy to install. Gives a great induction sound and looks really slick in the engine bay ⭐

Please note: This filter will NOT fit the 2012-on Multiair engine
DO NOT OVER TIGHTEN
When fitting the filter to its counterpart please ensure you do not over tighten the hose clamp connecting them. Doing so could result in the part being crushed, leading to fitment and/or performance issues. The recommended torque setting for this hose clamp is 2-2.4Nm

Complimentary Products
Downloads: