Induction Kit for BMW Mini Cooper F56
£331.15
---
Code: FMINDF56
---
This does not fit the 306bhp model
Forge Motorsport have been at the forefront of Mini tuning since 2006, and proud sponsor of the Mini Challenge in the UK which sees our performance parts fitted to both the R56 and F56 generations of Mini, across the entire grid. The Forge Motorsport intake for the latest generation of Mini (chassis F54, F55 and F56) has been developed specifically for the 2.0 petrol engine found in the Cooper S and Cooper JCW, though it will also fit the Cooper 1.5 petrol, as BMW use the same airbox from the factory.
The intake itself features a bespoke aluminium heat shield which doubles as a scoop to direct air from the cold air inlet on the slam panel, and it picks up on the stock mounting locations with rubber grommets to reduce vibration and noise.
Compliment your Forge Motorsport induction kit with the mandrel bent high flow turbo intake pipe FMHFIP1 which eliminates flow restrictions associated with the OEM plastic pipe and resonator.
Take a look at our video to see the dyno test results and an impressive 10 BHP gain. The pipe to the filter is hand fabricated and features a precision machined MAF boss so that the cars original MAF can simply be bolted on to the new intake.
If you have the below sensor, this part will fit your vehicle.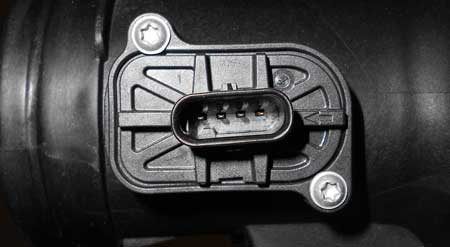 If you have the below sensor, this part will not fit your vehicle. Please purchase FMINDK26
The filter is manufactured to Forge's specifications by Pipercross (www.pipercross.net)
Washable and reusable design.
Layered multi-density foam technology.
Designed and manufactured in Great Britain.
Improvement in engine power and torque with superior engine protection from dirt and dust ingress.
Designed to flow stronger for longer.
Finally the intake scoop and hard pipe are finished in hard-wearing crackle black powder coat to give an OEM style finish. In terms of performance, we have recorded increases of 10bhp with no other changes to the car. Fitting is very straightforward, requires no cutting or modification to the vehicle so it can easily be removed if needs be, and can be completed in 20-30 minutes.
*Please note - the Pipercross filter is excluded from the Forge lifetime warranty*
Please watch our video on how to fit an air filter without damaging it.
DO NOT OVER TIGHTEN
When fitting the filter to its counterpart please ensure you do not over tighten the hose clamp connecting them. Doing so could result in the part being crushed, leading to fitment and/or performance issues. The recommended torque setting for this hose clamp is 2-2.4Nm
Downloads: