34mm Split Recirculation and Blow Off Valve
£194.20
---
Code: FMBSPLTR
---
We recommend servicing your valve every 3 years, or 20,000 miles, whichever comes sooner
The Splitter is a truly remarkable valve that gives a combination of blow off and recirculation valve operation all at the same time and has been specifically designed for the many turbo engined applications that operate metered airflow management sysyems. This means you get all the noise of the blow off valve whilst retaining the compatibility with the recirculation requirements of the engine management system. As a bonus we also offer the ability to convert the valve to recirculation only mode for those times when stealth running is required.
This valve uses a Brass piston which utilises new sealing technology along with a variable spring preload incorporating a ratchet type top adjuster that will allow for the positive and precise adjustment to match the valve to your engine. This is achieved by using a unique single, conical, progressive rate spring that can allow for the retention of boost pressure over a wide adjustment range. This unique spring design also allows for unrestricted piston travel and flow volume regardless of the amount of pre-load adjustment added to the spring. Other manufacturers valves using cylindrical springs with adjustable pre-load often experience restricted piston travel and a reduction in flow volume.
This valve has 34mm pipe connections.
In The Box:
1 x FMBSPLTR Valve
1 x Valve Blanking Cap
1 x 500mm of 4mm Vacuum Tube
1 x Instructions
1 x Forge Sticker
To service this valve, access the valve piston by removing the 3 cap screws at the base of the valve and simply clean the piston chamber using brake cleaner or similar cleaning fluid before installing the new spring and piston. Please observe the correct spring and piston orientation when installing the serviceable parts, as seen in the attached drawing.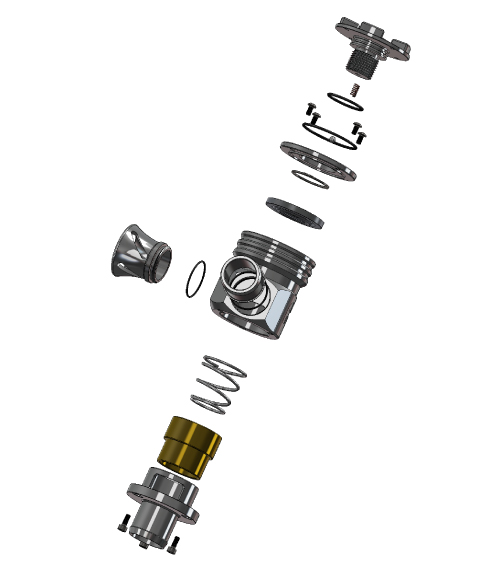 Downloads: