Forge Uprated Intercooler for Mini F56 1.5 Turbo
£653.77
---
Code: FMINT8
---
This is a replacement for OEM part number 17517617597
As the preferred and official supplier of to www.minichallenge.co.uk Forge Motorsport is proud to present our for the Mini Cooper 1.5 Turbo F56 Chassis.
Our core offers a 123% increase in frontal area over stock (BMW Part no 17517617597).
As the originators of the stepped core design way back in 2006, Forge Motorsport is best placed within the market to call on our vast expertise in order to deliver a direct fit that would enhance the performance potential of the BMW Group 1.5 Turbo 3 cylinder engine.
Our end tanks are die cast in aluminium for improved internal flow characteristics, developed from 3D printed prototypes that we manufactured in-house at our dedicated R&D facility in Gloucester, UK. The bar and plate core design we have used comes after months of testing different core designs and opting for the core with of internal, external airflow and heat transfer characteristics.
Please look through the front grill to ascertain which cooler you need. The FMINT8 has 7 tubes the FMINTMF56 has 11
Or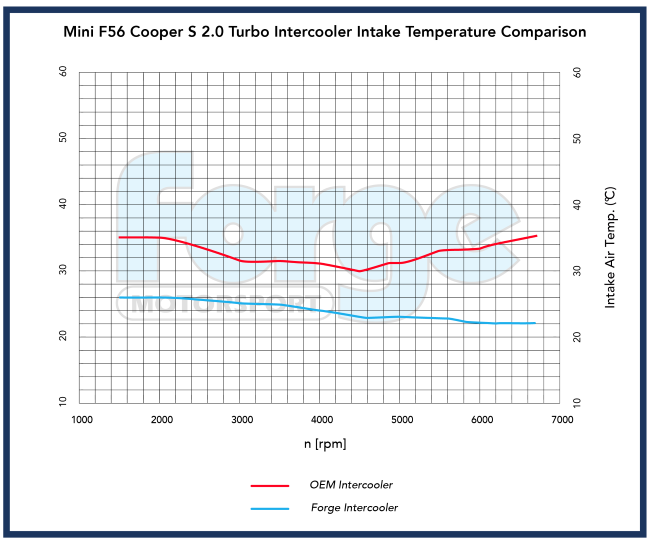 Official supplier to www.minichallenge.co.uk
The Forge F56 JCW gives a respectable 123% increase in frontal area.
CNC machined couplers to ensure a precision fit to the OEM Hose couplers.
Supplied with all fitting hardware, no additional purchases necessary
This is designed as a direct replacement for the OEM and requires no cutting of bodywork etc.
This product is designed, developed and manufactured entirely in Great Britain and is covered by our Worldwide lifetime warranty.
Again Forge Motorsport are first to market with a full range of for the Mini (Petrol) F56 Turbo range, 1.5 Turbo Cooper, 2.0 Turbo Cooper s and 2.0Turbo JCW.
Downloads: